A
B
O
U
T
M
E
!
!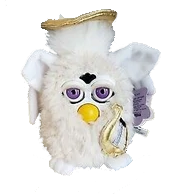 My name is EDDIE
☼ 22 (05/26) He/she/fae (+)
☼ Gay ⚣ TME androgyne White (Irish)
☼ Physically disabled Chronically ill Autistic
☼ Dating Ghost (24/10/19)
Favourites!

Animals: All cats, bats, dogs, bears, red pandas, hedgehogs, deer, zebras, ducks, bees, moths, penguins
Food: Pizza, chicken alfredo, mac and cheese, strawberries, steak, patty melts, grilled cheese sandwiches
Colours: Pink, yellow, green, red

Fun facts!
☼ I am a cane, rollator, mobility scooter, and AAC user, and I'm learning ASL!
☼ I'm 5'2".
☼ Currently living on unceded Anishinaabe ᐊᓂᔑᓈᐯᒃ land.
☼ I own a cat named Percy!
☼ I love sparkling water. (Derogatory)
☼ My tools of the trades are an Intel Core i5-9400F CPU @ 2.90GHz, and an NVIDIA GeForce GTX 1660

Personality!
Gemini☼ Pisces☾ Cancer↑
ESFJ ✦ 6w7 ✦ 692 ✦ ESE ✦ SO/SX ✦ SLOAN
Vanilla Ice ✦ Neutral Good ✦ Sanguine-Choleric
TVTropes!
☼ Weakened By The Light
☼ Ambiguous Gender
☼ Camp Gay
☼ Genius Cripple
☼ The Medic
☼ Sleepyhead
☼ Funny Animal
☼ Cat Stereotype
☼ Cute Kitten
☼ Ugly Cute
☼ Nightmare Fetishist
☼ Boys Like Creepy Critters
☼ Deadpan Snarker
☼ Disabled Snarker
☼ Covered With Scars
☼ The Unapologetic
☼ The Perfectionist
☼ Sir Swears-A-Lot
☼ The Napoleon
☼ Properly Paranoid
☼ Butt Monkey
☼ Hates Being Touched
☼ Classical Anti-Hero
☼ Cowardly Lion
☼ Jerk With A Heart Of Gold
☼ Berserk Button
☼ Beware The Nice Ones
☼ Badass Pacifist
☼ The Comically Serious
☼ Malaproper
☼ Oblivious To Love
☼ Bitch In Sheep's Clothing
☼ Extreme Doormat
☼ Desperately Craves Affection
☼ Neat Freak
☼ Ditzy Genius

you are deepskyblue
#00BFFF

Your dominant hues are cyan and blue. You like people and enjoy making friends. You're conservative and like to make sure things make sense before you step into them, especially in relationships. You are curious but respected for your opinions by people who you sometimes wouldn't even suspect.

Your saturation level is very high - you are all about getting things done. The world may think you work too hard but you have a lot to show for it, and it keeps you going. You shouldn't be afraid to lead people, because if you're doing it, it'll be done right.

Your outlook on life is very bright. You are sunny and optimistic about life and others find it very encouraging, but remember to tone it down if you sense irritation.

the spacefem.com html color quiz
Take the quiz here!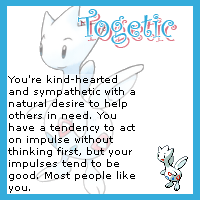 See what Care Bear you are.
What is your Animal Crossing personality? Answer these hard-
Your Result: Uchi
Uchi villagers tend to act like an older sister. Although they are girls, they can be blunt and also act like a boy. They like to spread rumors about other villagers. They get along with most male villagers. Examples of uchi villagers are Tammy, Shari, Katt, and Diva.