I
N
T
E
R
E
S
T
S
SPECIAL INTERESTS!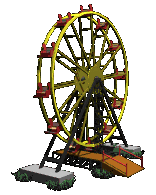 ☼ Toys and toy collecting - My favourite toys to collect are plushies, and I collect from many brands!
☼ Rollercoasters - I have over 40 coaster credits, my home park is La Ronde and I have a beginner's guide if you're interested! My favourite coasters are Leviathan at Canada's Wonderland and Iron Gwazi at Busch Gardens Tampa!
☼ The Emergency Alert System - I also love anything related to international Emergency Alert Systems, and I have the biggest YouTube playlist for Canada's system, Alert Ready!
☼ Disability - Including different conditions, aids, and disability advocacy!
☼ Airplanes - My favourite kind of airplane is the Airbus A380!
☼ Tornado/air raid sirens - My favourite siren is the Federal Signal Thunderbolt series, and I have a YouTube playlist of all different kinds of sirens around the world!
☼ Music - I don't play any instruments myself, I just fixate on specific bands and musicians!
☼ Cats and cat care - I've grown up being around cats, and I own a cat named Percy!

GENERAL

Antiques,
mechanics,
puzzles,
fashion,
medicine,
true crime,
animation,
technology,
disasters,
lost media,
urbex,
cooking and baking,
botany,
ARGS,
bootleg items,
malware,
coding,
Kawaii culture,
lost media,
abandoned places,
politics,
virtual pets,
psychology,
typology,
TV continuity,
photography
MEDIA
Shows Always Sunny, Jackass, Looney Tunes, Futurama, Octonauts, Venture Bros., Bojack Horseman, Tuca and Bertie, The Owl House, Infinity Train, Thomas The Tank Engine, My Little Pony, Max and Ruby, Bluey, Barry, Sesame Street, Kaiji, Big City Greens, Gravity Falls, Sagwa the Chinese Cat, Green Eggs & Ham, Betty Boop, Archer FX
Movies Martin, Black Christmas, Brain Damage, Felidae, Cats Don't Dance, Who Framed Roger Rabbit, Turning Red, Creep (2014), Drive, Rudolph the Red-nosed Reindeer, Alien, Kung Fu Panda, How to Train Your Dragon, Blue Puppy, Carrie, The Last Unicorn, Akira, Pacific Rim, Tetsuo: The Iron Man, Electroma, Behind the Mask, Onibaba, American Psycho, The Exorcist, The Texas Chainsaw Massacre 1+2, Baby Driver, Get Out, Wall-E, Into The Spiderverse, Ferngully, Jennifer's Body, Candyman, Reanimator
Games Hotline Miami, Petz (PF Magic), Ratchet and Clank, Minecraft, Sonic the Hedgehog, Super Mario Bros, Splatoon, 1000 Spikes, Five Nights at Freddy's, Pokemon, Digimon, Webkinz, Neopets, Mega Man
Other media Sanrio, Marble Hornets, EverymanHYRBID, WHAM City Comedy + Alan Resnick, Disney, Dreamworks, Red Letter Media, Hermitcraft, LPStube + Kinztube, SmallAnt, Scott the Woz, commentary YouTube (Kurtis Conner, Danny Gonzalez, Drew Gooden, Jarvis Johnson), Defunctland, Jerma985, BrutalMoose, LA Beast
Music Acrassicauda, A Perfect Circle, A Tribe Called Red, Babymetal, Daft Punk, Deftones, DJ Technorch, Failure, Faith No More, Godspeed You! Black Emperor, Justice, Kesha, The Mars Volta, Maximum The Hormone, Modest Mouse, Mr. Bungle, Muse, Nero's Day at Disneyland, Nine Inch Nails, Oingo Boingo, Pendulum, The Prodigy, Queens of The Stone Age, Radiohead, Scars on Broadway, SebastiAn, Sparks, System of a Down, Them Crooked Vultures, Viza, and many more!